"Knowledgeable people providing you with the highest quality in product and service"


Location: Stuart, Florida
Manager: Matt Zavash
A native Virginian & 83' Graduate of James Madison University. I have been with my wife Mary for 18 years. Love my dog Beau, King of Beers and Miami Hurricanes!
Address: 250 N.E. Dixie Highway, Stuart, FL 34994
Phone: (772) 692-2300 Hours: Mon-Fri 7:30 am to 4:30 pm


Location: Boynton Beach, Florida
Manager: Manny Gomez
I have been happily married for 19 years with one beautiful daughter. Originally from La Habana, Cuba. I have been in the Marine Industry for 18 years, the last 8 years here with Southern Pine Lumber. I love spending time with my family and going fishing.
Address: 1100 West Industrial Ave., Boynton Beach, FL 33426
Phone: (561) 736-9500 Hours: Mon-Fri 7:30 am to 4:30 pm


Location: Rockledge, Florida
Manager: Ryan Arling
Born and raised in Brevard county. I've been married to my wife Crystal for 10 years and we have two children. Started in the lumber business in 2004 and have been with Southern Pine Lumber since 2016. I enjoy boating, the beach and spending time with family.
Address: 2135 South US 1, Rockledge, FL 32955
Phone: (321) 632-5566 Hours: Mon-Fri 7:30 am to 4:30 pm


Location: Ponte Vedra, Florida
Manager: Louis Long
Originally from Pennsylvania where I spent 13 years working for my family's lumber mill. I am happily married with two children. I love spending time with my family, racing and the Philadelphia Eagles.
Address: 10710 North US 1, Ponte Vedra, FL 32081
Phone: (904) 461-1100 Hours: Mon-Fri 7:30 am to 4:30 pm


Location: Orlando, Florida
Manager: Jay Weidner
I'm married with 3 daughters. Originally from Pennsylvania, I have been in the lumber and building industry for over 30 years. I'm a huge sports fanatic. I played basketball in college and coached at the high school level.
Address: 6125 Hansel Avenue, Orlando, FL 32809
Phone: (407) 251-1900 Hours: Mon-Fri 7:30 am to 4:30 pm


Location: Pinellas Park, Florida
Manager: Blake Saba
Moved from the snowy Pocono mountains of Pennsylvania to the sunny beaches of Florida in 2013. I am widowed with two wonderful sons and have been in the building material industry since 1980. I love the beach life, Penn State football and ice cold beer.
Address: 10875 52nd Street North, Pinellas Park, FL 33760
Phone: (727) 561-9300 Hours: Mon-Fri 7:30 am to 4:30 pm


Location: Sarasota, Florida
Manager: Christopher O'Donovan
Originally from Rockland County, NY, and a Concordia College Graduate. I have been in the lumber and building industry for 20+ years joining Southern Pine Lumber Company in 2019. My spare time is spent with my family at the beach or fishing.
Address: 1375 N. East Avenue, Sarasota, FL 34237
Phone: (941) 203-6760 Hours: Mon-Fri 7:30 am to 4:30 pm


Location: Fort Myers, Florida
Manager: Steve Bruzik
I am a Former Marine deployed in Desert Storm and Somalia. Met and married Mary and made our way to Florida. We have 2 foster children Blake and Brynn that complete my life. I love sales, helping people, and building things. When not working I am an Elder at Rise Christian Church, mountain bike, and run.
Address: 16557 Mass Court, Fort Myers, FL 33912
Phone: (941) 444-5774 Hours: Mon-Fri 7:30 am to 4:30 pm


Location: Big Pine Key, Florida
Manager: Scott Kettle
I am originally from St. Louis, MO, and have been happily married for 10 years with an amazing son. I have been in the lumber industry for 25 years. My passions are for woodworking, fishing, traveling, and enjoying time with my family. I am an avid fan for the St. Louis Cardinals, Tampa Bay Buccaneers and Michigan Wolverines.
Address: 100 Industrial Road, Big Pine Key, FL 33043
Phone: (786) 901-5400 Hours: Mon-Fri 7:00 am to 4:00 pm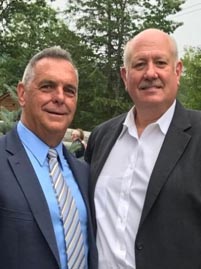 Co-Owner and President
Richard S. Kozell, Jr., pictured to the left, is a high school graduate from Elmwood Park, NJ. He has four grown sons and 5 grandchildren. In 1987 he came to Florida to build what would be his first lumber company, Dock & Deck Lumber Company in Boynton Beach. Since that time the company has changed its name and grown to 9 locations around the State of Florida.
Co-owner and Vice President Vince Cangiano,
pictured to the right, is originally from Warwick, NY, married for 39 years with 2 sons and 4 grandchildren. He joined the company in 1997 to help build Southern Pine Lumber Company into one of the largest and most well-known marine construction supply distribution companies in Florida.

Operations Manager
Jose Alvez has been with Southern Pine Lumber Company for over 20 years. Originally, he came to the United States as a child from Uruguay in 1992 where his family made their home in Palm Beach County. Jose is a proud husband, father and grandfather. Beginning his career with the company as a truck driver, moving on to yard foreman and then branch manager in 2002. He was promoted to Operations Managers in 2010.

General Manager
Brian Kozell joined the Southern Pine Lumber team in 2011. As a graduate of Florida Atlantic University, he has a bachelor's degree in Economics. Brian is married and has two sons and one daughter. Originally working his way through the ranks first as a yardman and driver, then on to the assistant manager position, and then branch manager in 2013. In mid-2017 he was promoted to the General Manager position for all nine locations.

Sales Associate
Marie Norman is a Sarasota resident with Jersey roots. She is married to husband David. Marie has 4 amazing kids and 4 grandchildren. With 10+ years of lumber experience she joined the SPL team in 2015 as Manager of the Sarasota branch. In 2019 she was promoted to Sales Associate for the west coast branches of SPL. Hobbies include LOVE of photography, music, motorcycling, and pool.

Purchasing Manager
Kevan Allaire, after 17 years of Marine Construction as foreman & owner, proudly joined the SPL team in 2003 as branch manager. Early in 2019, he was promoted to Purchasing Manager for all SPL locations. Kevan is happily married and father of 5 young men, one of which has also joined the SPL family. He enjoys offshore fishing, cruising the Caribbean & spending quiet time with his wife & 2 dogs.