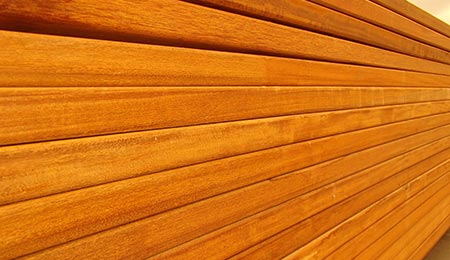 Ipe Decking
Ipe Decking
Tabebuia Serratifolia
Southern Pine Lumber Company has earned a reputation for supplying the best the marketplace has to offer in Ipe decking. Ipe is most commonly used for building docks, decks, boardwalks and marinas. With over a 40 year lifespan, Brazilian Ipe will add value to any project.
Ipe is sometimes referred to as "Ironwood" because of its strength and density. The grading of Ipe is not consistent in the marketplace. The terms such as "A grade", "B grade" and "FAS" are all used and all imply varied meanings. The grade terminology used at Southern Pine Lumber Company when we refer to Ipe is "premium". We consider premium to be free of defects on 3 sides. Those defects will include borer holes, sapwood or knots. Ipe may have some raised grain and may need to be sanded.
The color of Ipe is mostly a deep reddish brown though variation is possible as with all woods. Variance in color can be due to a range of circumstances. The geographic area, the climate, soil and how it is harvested and cut can all affect its color. The rich reddish brown color of Ipe, like all wood will fade in the sunlight to a silver-gray if left untreated. You can retain the brown hue by periodically treating your wood with an appropriate timber oil, or by periodically using a deck cleaner and deck brightener.
Ipe Lumber
Ipe decking is available lengths that range from 3' to 20'. We stock odd and even lengths in the 5/4×6 S4S Eased Edge decking. Others dimensions available are 1×6, 2×2, 2×4, 2×6, 2×8, 2×10, 2×12 and 4×4. Other dimensions may be available on a special order request.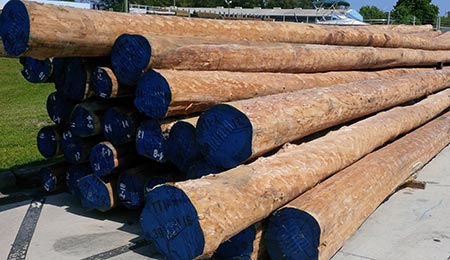 Greenheart Piling
Greenheart Timber
Ocotea rodiaei/Chlorocardium rodiei
Southern Pine Lumber Company stocks Greenheart piling in 12" to 14" butt diameters and lengths of 25' to 40' in our Boynton Beach facility.
Greenheart has been in used for centuries around the world, with a proven reputation of longevity when used under extreme conditions. Greenheart is becoming increasingly popular as "The Untreated Alternative™". This unique timber requires no chemical preservative treatment and is significantly stronger than Pine, Oak or Douglas Fir.
The available lengths of Greenheart piling range from 20 feet to 75 feet long with butt (larger end) diameters of 12" to 22".
Greenheart Piling is in a class by itself, some say it is superior to all other woods used for certain marine construction applications. "Greenheart : A Timber with Exceptional Qualities" – U.S. Department of Agriculture, states that Green Heart wood is almost immune to decay and is more resistant to Teredo worms and other marine wood borers than any of other species of timber so far used for piling.